Heroes obtained from solving the Holybread mission
When I was just solving the task
Gained a hero
Is ordinary blue
Can I sell it?
Change to bread or gold coins!
otherwise,
when they sold in the market, have not people woill to buy him.
he Not purple or gold,
so
Heroes obtained from solving missions,
Feels like beating,
It 's useless to the hero,
At least we can sell it!
Or revisions can be synthesized,
For example 5 blue synthetic purple.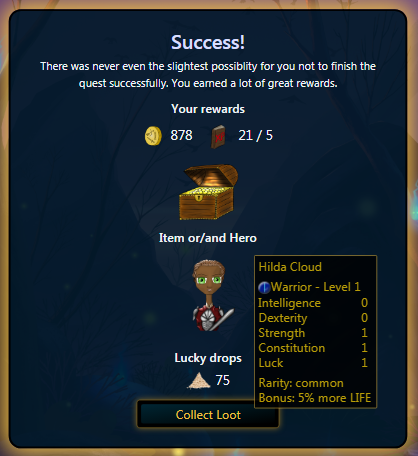 解holybread任务所获得的英雄
刚刚在解任务的时候
获得了一位英雄
是普通的蓝色
可以卖掉吗?
换成面包或者金币!
不然的话,
在市场挂卖都卖不出去.
又不是紫色或者金色的,
解任务所获得的英雄,
感觉像是在打脸,
给了英雄却是没有用的,
至少要能卖掉吧!
或者改版可以合成,
比如5支蓝色的合成紫色的.