Holybread on STEEM Blockchain
This is a NEW RPG Game.
it is built on the Steem Blockchain and use tokens.
this a game is Free!
need use steem account to login and play.
Holybread Launch 27th January 2020!
Now, this server is in countdown and the first Heroes auction is being held.
There will be three rounds of auctions and the official launch of the server on Monday, January 27, 2020 1 PM UTC + 1.
During this round you can bid for special heroes that will not be available again in the game.
We be able to sell and exchange them (them like exchange Splinterlands cards).
Gift:
Now, pre-register this Holybread, can get obtaining 20 breads (game currency).
IF you have not join this game,
you can consider using this invitation link to join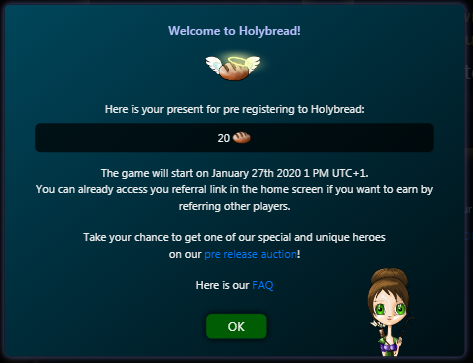 STEEM区块链上的神圣面包
这是一个新的RPG游戏。
它基于Steem区块链并使用令牌。
这个游戏是免费的!
需要使用Steem帐户登录并播放。
Holybread将于2020年1月27日发布!
现在,此服务器处于倒计时状态,并且首次举行了英雄拍卖。
2020年1月27日星期一,UTC + 1将进行三轮拍卖,并正式启动服务器。
在这一回合中,您可以竞标将不再出现在游戏中的特殊英雄。
我们能够出售和交换它们(就像交换Splinterlands卡一样)。
礼物:
现在,预先注册此Holybread,即可获得20个面包(游戏币)。
如果您尚未加入此游戏,
您可以考虑使用这个邀请连结来加入